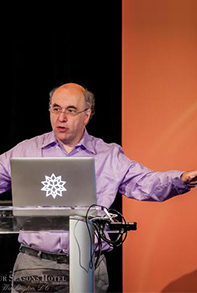 The Wolfram Data Summit begins with an 8am breakfast on Tuesday, September 1. The final presentations will conclude at approximately 4:30pm on Wednesday, September 2. This page will be updated as additional speakers are confirmed.
Talks & Presentations
Working with Dirty Data: To Cleanse or Not to Cleanse... and How to Decide
Nicholas Marko, Dr. Oleg Roderick
Geisinger Health System
Scientific Data, Privacy
Todd Carpenter
NISO
Big Brother vs. Big Data: Privacy-Preserving Threat Analytics at Scale
Chester Parrott
Cisco
Using Big Data to Predict Online Trends
Peter Sirota
Quantcast
Data Science for Data-Driven Application Systems in the Internet of Things
Kirk Borne
Booz Allen Hamilton
Protecting Consumers of Financial Products and Services
Linda Powell
Consumer Financial Protection Bureau
Bidding Strategies for Display Advertising: How to Avoid Boiling the Ocean
Catherine Williams
AppNexus
Data Is the Only Marketplace
Russell Foltz-Smith
TrueCar, Inc.
Does Location Matter? A Sneak Peek at the Best States for Data Innovation
Daniel Castro
Center for Data Innovation
Open Data Science: Leveraging Public Data to Explore Urban Life
Ben Wellington
Pratt School of Architecture
Data as Code/Code as Data
George Danner
Business Laboratory LLC
The Webdata Blindspot
Shion Deysarkar
Datafiniti
Building and Linking the Public Goods of the 21st Century
Nicholas Gruen
Lateral Economics
Data Sleuth: Detecting and Recovering Missing Data in International Trade Networks
Peter Goodings Swartz & Keith Soura
Panjiva
Prospecting for Habitable Planets
Jon Jenkins
NASA Ames Research Center
The Revolution Will Be Annotated
Dan Whaley
Hypothes.is
Quantifying, Visualizing, and Forecasting Global Human Society: What It Looks Like to Compute on the Entire Planet
Kalev Leetaru
George Washington University
2016 Election Media as Data
Roger Macdonald
Internet Archive
Inconvenient Truths: What Do We Know, How Do We Know It, and How Do We Know We Know It?
Anthony Scriffignano
Dun & Bradstreet